Tuesday, Wednesday, Thursday groups

Most of our volunteers work one or more days each week, depending on their schedule. Opportunities for service include sorting donations, selling items in the clothing, household or furniture areas, yard work, general maintenance work, electronics and appliance testing, or general fetch and carry tasks. We need you, and will find a place for you to use your skills and potential.
---
Special thanks to the Armstrongs

PRESENTED SUMMER 2018
SPECIAL THANKS AND APPRECIATION TO:
JIM and SUSAN ARMSTRONG
FOR YEARS OF DEDICATED SERVICE
AT HAWKINS HELPING HAND
JIM FOR 9 YEARS AS BOARD PRESIDENT
SUSAN FOR 16 YEARS AS A FAITHFUL VOLUNTEER
---
Jon and Marjorie Kuehl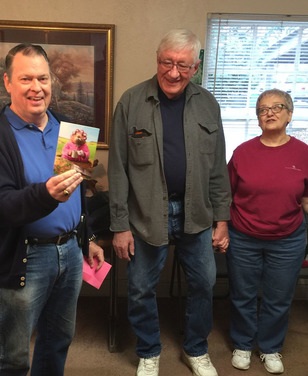 After many years serving in the food distribution area, Marjorie has decided to step aside and share the blessings.  Jon is retiring from his work with the yard crew and shop, but will remain on the board of directors.  We will miss them, but plan on their being around frequently.  Check the Christmas 2018 food hand out to see their final hurrah.
---
A Huge thanks to The Dukes of Helping Hand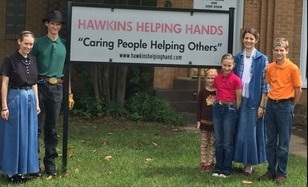 England may have a Royal Family, but the Dukes could be found at Helping Hand up till 2019, helping out with anything from sorting drop offs, fetching and carrying, sorting and selling clothes to stacking go out bags in the truck.
Thanks guys!

---